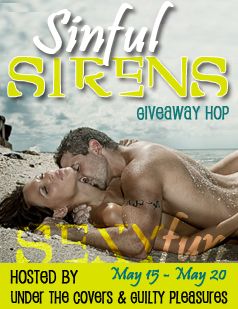 am busily writing and getting ready for my nieces and nephews to come for a 6 week vacation. I am super excited. So this won't be as good a contest as my last. Enter a comment with the best vacation you've ever taken...or one you really want to take. You can also get a extra entry by signing up for my mailing list.
And what are you signing up for....a $20.00 Amazon or Barnes and Noble gift card.
So tell me about your vacations... Then check out other participants in the blog hop.
Sinful Sirens Giveaway Hop
| | | | | | | |
| --- | --- | --- | --- | --- | --- | --- |
| 1. | Under The Covers (Host) Int. | 45. | Sarah Grimm (INT) | 89. | Romance Book Junkies | |
| 2. | Guilty Pleasures (Host) Int. | 46. | Alison Chambers | 90. | Sandra Bunino | |
| 3. | Turning The Pages (Int) | 47. | LaVerne Clark @ Novel Natterings (INT) | 91. | Book Lovin Mamas (US) | |
| 4. | Riverina Romantics (INT) | 48. | Lori @ Romancing the Darkside (Int.) | 92. | Wendy Smith | |
| 5. | LITERAL ADDICTION iNT | 49. | Lynne Connolly (INT) | 93. | Madame D's Boudoir | |
| 6. | Addicted2Heroines (Int) | 50. | Rhian Cahill | 94. | Romance Book Club | |
| 7. | Kallypso Masters | 51. | Paige Tyler | 95. | Ednah Walters (US/Can) | |
| 8. | Eliza Gayle INT | 52. | Tory Richards | 96. | Mary @Sweeping Me {INT} | |
| 9. | Bonnie Bliss (Int) | 53. | Maxine Mansfield | 97. | R. Brennan | |
| 10. | Shelley Munro (Int) | 54. | As the Pages Turn (INT) | 98. | Leigh Savage (US/CAN) | |
| 11. | Leia Shaw @ The Paranormal G-Spot (US) | 55. | Scarlett Sanderson (INT) | 99. | Natalie G. OWens | |
| 12. | CS Maxwell ~ Where (US) | 56. | Kriss @ The Cabin Goddess | 100. | Sara Daniel Romance Author (INT) | |
| 13. | Siobhan Muir (INT) | 57. | Isabelle Drake (INT) | 101. | Kharisma Rhayne | |
| 14. | HEA-Reads (Int) | 58. | Romance on a Budget (INT) | 102. | The Book Nympho (US) | |
| 15. | Blackraven Erotic Cafe (Int) | 59. | Desiree Holt | 103. | Lila Shaw (INT) | |
| 16. | Blackravens Reviews (INT) | 60. | Cari Quinn | 104. | Gettin' Shamrocked with JoAnne Kenrick | |
| 17. | AJ's Reading Nook (INT) | 61. | P. L. Parker | 105. | Full Moon Bites | |
| 18. | The Readers Roundtable After Dark (INT) | 62. | Dianne Hartsock (int) | 106. | Michelle Clay | |
| 19. | Dark Divas Reviews (INT) | 63. | Cassandra Dean (INT) | 107. | The eBook Reviewers (US) | |
| 20. | Cocktails and Books (int) | 64. | Mari Carr | 108. | Rhys Astason (INT) | |
| 21. | The Jeep Diva (US & INT) | 65. | Gabrielle Bisset (INT) | 109. | K.E. Saxon | |
| 22. | My Secret Romance | 66. | Ju Dimello (INT) | 110. | Leila Brown | |
| 23. | Miss Vain's Paranormal Fantasy (INT) | 67. | Ann Cory(US) | 111. | Reading On The Wild Side (US) | |
| 24. | Ramblings From This Chick (US) | 68. | Dawn Brown | 112. | Candace Shaw, author of fun, flirty & sexy romance | |
| 25. | Diane Thorne - Erotic Paranormal Romance (INT) | 69. | Tami Brothers ~ Live, Love, Write! | 113. | Book Whore Blog (INT) | |
| 26. | Close Encounters with the Night Kind | 70. | Josee Renard | 114. | Little Read Riding Hood (INT) | |
| 27. | Natasha Blackthorne (INT) | 71. | The Bunny's Review (Int) | 115. | Minding Spot | |
| 28. | Bianca Sommerland | 72. | Serenity Woods (INT) | 116. | After Dark (INT) | |
| 29. | Megan Slayer | 73. | Kelly Gendron | 117. | Billi Jean | |
| 30. | Melissa Love | 74. | Cari Silverwood (Int) | 118. | I am a book addict...and proud of it! (US) | |
| 31. | Delighted Reader | 75. | Felicity Heaton, PNR author (INT) | 119. | Kiru Taye, Author (INT) | |
| 32. | Casey Crow (INT) | 76. | The Steamy Side (US) | 120. | The Wiccan Haus (Int) | |
| 33. | Talk Supe (INT) | 77. | Lee Brazil- Lee's Musings (INT) | 121. | Dominique Eastwick (int) | |
| 34. | Best Erotica Books | 78. | Book Monster Reviews (INT) | 122. | Erykah Wyck | |
| 35. | Reader's Edyn | 79. | A Darker Passion | 123. | I Smell Sheep (US) | |
| 36. | Mystifying Paranormal Reviews (US) | 80. | Jess @ Wickedly Bookish | 124. | Another Look Book Reviews (CAN/US) | |
| 37. | Picked by Poison | 81. | Delaney Diamond~Sweet & Sensual Romance (INT) | 125. | Carly Fall (INT) | |
| 38. | D. Renee Bagby / Zenobia Renquist (INT) | 82. | Selena Blake | 126. | Red Hot Books (INT) | |
| 39. | Addictive Passions (Int) | 83. | Autumn Glazier (INT) | 127. | Nadja Notariani (US/Can) | |
| 40. | W. Lynn Chantale (INT) | 84. | Amanda J. Greene (INT) | 128. | Hesperia Loves Books (INT) | |
| 41. | DC Juris | 85. | Lea Barrymire(US) | 129. | LilyElement | |
| 42. | Cheryl - A Little Bit of Spice (Int) | 86. | Romancing Rakes For The Love of Romance(US) | 130. | Lily Graison, author, (INT) | |
| 43. | Kacey Hammell | 87. | Smitten With Bad Boy Heroes (INT) | 131. | Shades of Rose | |
| 44. | KyAnn Waters (Int) | 88. | A Page In The Life: Lee Ann Sontheimer Murphy | 132. | Dani Harper, PNR author, (INTL) | |
(Collection closed)
Link tool by
inlinkz.com